This "quick tutorial" introduces the general idea of a call and explains the most common cases. It does not explain or illustrate all cases. For additional details and/or examples, refer to the links in the "MORE INFO" box.

Dixie Grand is like Right and Left Grand but there are only three pull-by actions (Right, Left, Right). It is also typically used with the boys and girls going the opposite direction as they would be going in a typical Right and Left Grand. In other words, typically the girls will be going in promenade direction and the boys will be going in reverse promenade direction. But that is not part of the definition. It is very frequently followed by Allemande Left, but the Allemande Left is not part of the Dixie Grand. Dixie Grand can be used with any combination of boys and girls, and can be followed by various other calls.

Dixie Grand can start from a wide variety of formations, which don't have much in common except that half of the dancers are facing promenade direction and half are facing reverse promenade direction. They may be already holding right hands, as in parallel right-handed waves. They don't have to be directly facing. If they are facing along a rectangular circulate path, that is good enough. For example, from a "Trade By" formation, the end dancers can start a Dixie Grand by turning to face each other for the first pull-by.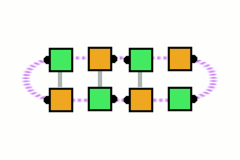 Dixie Grand can also be done from formations where only some of the dancers are facing. Only those who are facing do the right pull-by, then everybody joins in for the left pull-by. In particular, Dixie Grand is frequently done from a "Double Pass Thru" formation, with just the centers facing. The centers start the call with a right pull-by, and then continue with the ends for the left pull-by.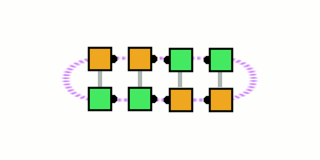 Regardless of the formation from which the dancers start, as they do the pull-by actions they adjust to form a circular formation, and end facing another dancer in that circle, just like the end of a Right and Left Grand.